By Manish Khatta on September 4, 2019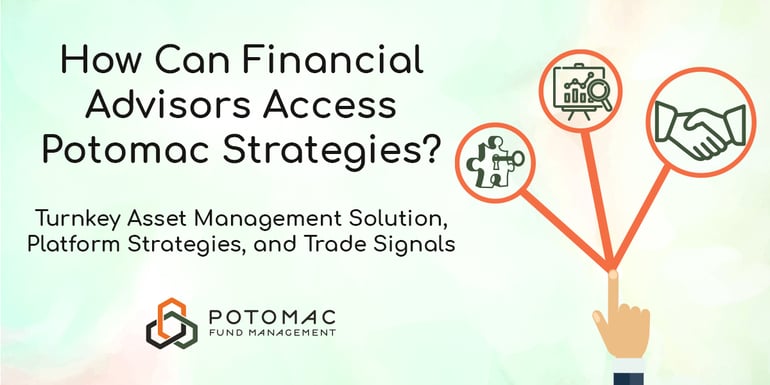 Since 1975, Microsoft has been the 'big elephant in the room.' They basically own the market when it comes to proprietary, licensed computer software (don't hate me Apple fans – numbers don't lie.)
However, a major shift has been occurring. Microsoft is becoming the biggest proponent of Open-Source. Basically, opening Linux and thousands of patents to be accessed for developers to learn and improve upon.
Microsoft CEO Satya Nadella suggested in his book "Hit Refresh" that leadership at Microsoft must be "boundary-less and globally minded in seeking solutions."
We agree!
So, how does this relate to Potomac for Advisors?
For over 30 years, Potomac's strategies have been available to advisors as direct, third-party management business.
One channel. One distribution path. Our way, or the highway.
For those who wanted to access our strategies but were using multi-manager platforms or managing their own strategies with research and signals from outside sources – No Bueno!
Today – we are giving financial advisors more investing choice by making the availability of our risk managed strategies "boundary-less."
Our solutions for advisors are varied and flexible because the challenges facing your firm are unique.
You dictate the terms of our engagement by choosing a full turnkey solution, platform strategies, or trade signals to help you best align client portfolios with acceptable risk.
Three Ways for Financial Advisors to Access Potomac
Turnkey Asset Management Solution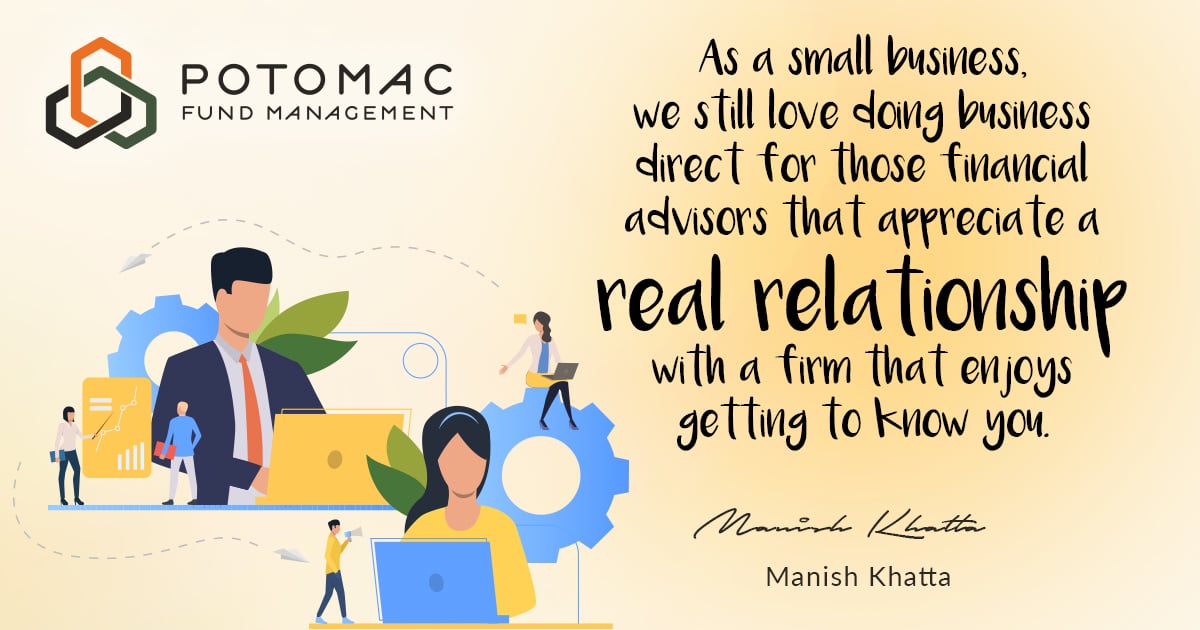 We get satisfaction from being a small firm and knowing that our advisors can call us by name, rather than calling the group number and wondering if they'll get the same answer twice.
However, it's not for everyone and all depends on your business model.
PROS:
Hands-on customer service (Everyone says this but it's impossible to deliver at scale.)

More control of your business

Access to ALL Potomac strategies

Multi custodian- including Fidelity and TD Ameritrade

Full back office support including client reporting, advisory fee billing, and trading responsibilities
CONS:
Higher relative cost given back office services

Access to only Potomac strategies

Limited flexibility for choosing custodians
Platform Strategies (Unified Managed Accounts)
Financial advisors have access to multiple investment strategists (their term not ours) all under a single account or household. It also makes life easier for B/Ds and RIAs to have multiple strategists in one place when it comes to reporting and compliance.
We are actively reviewing and adding our strategies to various platforms, however you can utilize some of our strategies through industry leading UMA platforms such as:
FTJ Fund Choice (Coming Soon!)
Convenience comes at a cost though, which is typically big business customer service and a lack of personalization. The UMA platform is powerful, but again it isn't for everyone.
PROS:
No need to onboard with each strategist individually

Easier to change strategists (which can also be a con!)

Multiple strategists can be held in the same account

All service done by the same platform group no matter what strategists is used

Lower strategists' cost (but there are typically additional platform costs)
CONS:
Not all platforms and B/Ds have the strategists you may want

Service is done by a large group and not likely to get the same person twice

A disconnect from the strategist and limited understanding of philosophy

Additional platform and Broker/Dealer fees

Can be overwhelming with so many choices

Limited flexibility for custodian choice
Trade Signals and Research Delivered via a Model Marketplace
As our industry has evolved over the years, technology continues to change the ways investment strategies can be delivered. This is evident with emergence of the Model Marketplace which was explained in detail on the Nerd's Eye view blog.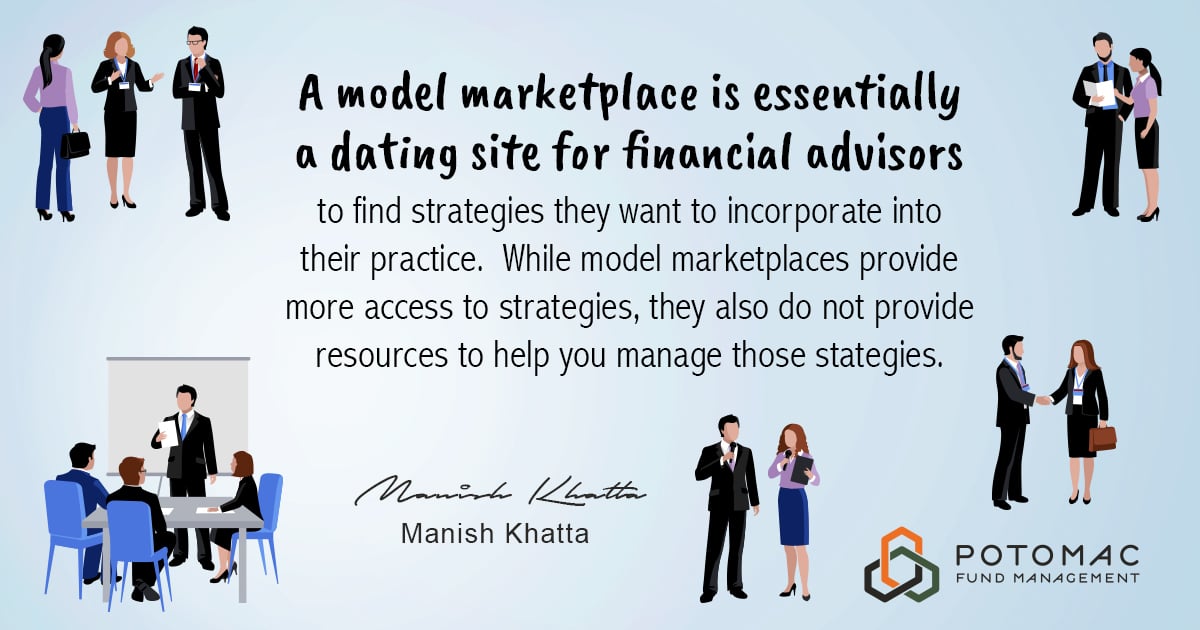 While model marketplaces provide more access to strategies, they also do not provide resources to help you manage those strategies. Once you decide on a handful of investment strategies, it's up to you to have the infrastructure in place to execute and monitor trades.
There are different variations, but you are essentially paying for trade signals and manager research.
We scanned the marketplace and decided to exclusively partner with a firm that fits our brand. Effective immediately, our strategies are now available only on the Riskalyze partner store.
The best part is you don't have to open a new account or change your advertising, marketing, or mantra. You are simply getting our trade signals and research directly from Riskalyze.
PROS:
Least expensive manager cost or subscription

No manager specific paperwork for clients

Total control over custodian choice

Total control of your business – you choose what signals to use or not use
CONS:
No back office support from Potomac

Least connected to Potomac's process

If you pick/choose which trades to process or have trade delays, returns are the effect of your decisions, not Potomac's process

Access our Portfolio Experience Through your Best Fit

We are one of the most experienced risk strategists in the industry, acting as an RIA since 1987. We offer multiple ways to access our portfolio experience: direct, through platforms, and trade signals.
Now that Potomac has opened our strategies up to multiple distribution channels, advisors can now offer real risk management solutions to their clients.
If you have a pain point of needing a risk-managed solution, one of Potomac's distribution channels may be right for you.
Our focus is and always has been on reducing volatility and maximum drawdown to assure a smoother investment ride and less risk.
Get in touch with our team today to schedule a conversation and discuss which option is best for you.
---
Disclosure: This information is prepared for general information only and should not be considered as individual investment advice nor as a solicitation to buy or offer to sell any securities. This material does not constitute any representation as to the suitability or appropriateness of any investment advisory program or security. Please visit our FULL DISCLOSURE page.